Meet our Board of Directors, a group of men and women whose experience and leadership has helped to launch GIVEN for the Church and the wider culture.
Sister Mary Elizabeth Albers, SOLT 
Aspirant and Vocations Servant, Society of Our Lady of the Most Holy Trinity
Thérèse Bermpohl
Executive Director for the Office of Marriage, Family, and Respect Life in the Diocese of Arlington, VA
Mary Devlin Capizzi
Partner, Faegre Drinker Biddle & Reath, LLP
Sister Mary Gabriel Devlin, SV
Sisters of Life, Co-Chair of Inaugural GIVEN Forum
Sister Mary Elizabeth Endee, FSE
Director of Vocations for the Franciscan Sisters of the Eucharist, Director of the Franciscan Life Center
Ana Cecilia Fieler
Visiting Assistant Professor of Economics, Yale University
Very Rev. Aquinas Guilbeau, O.P.
Assistant Professor of Moral Theology at the Pontifical Faculty of the Immaculate Conception at the Dominican House of Studies in Washington, D.C., Senior Editor of Aleteia.org (English edition), Prior of the Dominican House of Studies
Dr. John Grabowski
Professor of Moral Theology, The Catholic University of America and Theological Advisor to the USCCB Committee on Laity, Marriage, Family, and Youth
Cindy Nickless
Founder, The Presence Radio Network
Molly Perry
Advisor for Aid for Women, Catholic Charities, House of Good Shepherd
Sister Mary Madeline Todd, OP
Philosophy and Religion Teacher, Department Chair at Mount de Sales Academy
Sister Mary Elizabeth Wusinich, SV
Sisters of Life, Co-Chair of 2019 GIVEN Forum
Sarah Yaklic
Chief Digital Officer for the Archdiocese of Los Angeles
Luanne Zurlo
Executive Director of Seton Education Partners, Founder, Educando by Worldfund
Meet our Advisory Council, individuals who lend their expertise and counsel to help guide GIVEN's vision and development.
Montse Alvarado
VP and Executive Director, Becket Fund for Religious Liberty
Helen Alvaré
Professor of Law, Antonin Scalia Law School, George Mason University
Danielle Brown
Director of Ad Hoc Committee Against Racism, United States Conference of Catholic Bishops
Rachel Bulman
Writer, Word on Fire
Rhodora Marie Donahue
Totus Tuus Secular Consecrated, Director of Mission Integration
Mother Agnes Mary Donovan, S.V.
Superior General of the Sisters of Life
Most Reverend Jose H. Goméz
Archbishop of Los Angeles
Peggy Noonan
Columnist, The Wall Street Journal 
Photo by Storia Studio
Rachel Harkins Ullmann
Executive Director of
The GIVEN Institute
When Rachel was 16 years old, she took a risk and signed up to serve as a Young Apostle for a Steubenville Youth Conference. While in confession with Fr. Dave Pivonka, TOR, he had a vision which he shared with her. She was hiding behind a rose bush and Christ was asking her to come out from behind the bush and become a big, bright rose on the front of the bush. This divine commission has led Rachel on a journey of discipleship and leadership in the Church for the service of others.
Prior to joining GIVEN, Rachel worked in the Archdiocese of Baltimore for over twelve years supporting parishes and schools with their advancement efforts. Rachel has also taught theology courses in Catholic schools and served as Campus Minister at Mount de Sales Academy under the leadership of the Dominican Sisters of St. Cecilia. She is a graduate of Franciscan University of Steubenville, where she majored in Theology and Catechetics and obtained her Masters in Education Administration from Johns Hopkins University. Rachel is a harpist and has traveled to Australia, Israel, and all over Europe (favorite cities being Rome, Lourdes, and Fatima). Her greatest source of joy is her husband Tony and her children, Evangeline, Cooper, and Theodore.
"My deepest desire is to see you in heaven. Every woman who encounters The GIVEN Institute is a chosen daughter of God. My prayer is that you will receive the gift that you are, realize the gifts you have been given, and respond with the gift that only YOU can give. I am honored to accompany you on this journey." – Rachel Harkins Ullmann
Photo by Storia Studio
Megan Haile
Events and Network Coordinator for
The GIVEN Institute
Megan grew up Catholic and considers her college years to be the time when she entered into an intentional and passionate relationship with Christ. Through the friendship of a FOCUS missionary, Megan was blessed to learn about discipleship and mission simultaneously and just "jump right in." She learned that you cannot separate following Jesus from inviting others to follow Him. She was moved by the ideas that "the Church exists to evangelize" (Evangelii Nuntiandi) and "an obligation [to preach the gospel] has been imposed…woe to me if I do not proclaim it!" (1 Cor. 9:16). Megan loves reading and learning, so publications and books like Pope Paul VI's Evangelii Nuntiandi, Pope John Paul II's Mulieris Dignitatem, Alice von Hildebrand's The Privilege of Being a Woman, and St. Louis de Montfort's True Devotion to Mary were meaningful in forming Megan's identity as a disciple and as a daughter–a woman–of God.
Prior to joining GIVEN, Megan worked for FOCUS and She+ Geeks Out, inviting women into leadership and community. She has worked in ministry, event planning, and administrative capacities, speaks Spanish, and thrives when working with an epic to-do list. She is a graduate of New York University, where she majored in Media, Culture, and Communications. Megan cares deeply about the "little-c" catholic identity of the Church and works to increase the breadth of diversity and representation in projects she is involved with.
"God created me as ME, not just as a blank slate for the mythical Perfect Catholic Woman. My gifts, my desires, my sense of humor and even my weaknesses are all tools on the journey that God has planned for me." -Megan Haile
Photo by Storia Studio
Abby Scharbach
Mentor and Training Coordinator for
The GIVEN Institute
Abby describes herself first and foremost as a lover of Christ but says "you never know what God will do with your fiat." Spending most of their twenties getting through Protestant seminary while starting a family, Abby and her husband Albert have led a life focused on ministry. After a fruitful ten years in the Anglican church, the family became Roman Catholic in 2009. In 2013, Albert became a Catholic priest in the Ordinariate of the Chair of St. Peter, and Abby embraced her "vocation within a vocation," serving alongside her husband in an urban mission parish in Baltimore.
While serving in Baltimore, Abby began and directed a Montessori catechetical program, started an outreach program for opioid addicts, planned and led retreats, helped with marriage formation, mentored women, led Bible studies, and planned countless parish events.   She believes her ministry is an expression of the feminine genius. Also a lover of books and children, Abby has surrounded herself with both as an English teacher and mother of nine. Over the years Abby has worked as a reading and writing teacher and director of religious education while also homeschooling.  More recently, she has taught Great Books, religion, writing, and rhetoric at a classical tutorial. Abby takes delight in working with the next generation of Catholic female leaders as they embrace their gifts and express their own fiats. She believes that the unique gifts of women, exercised in union with Christ, bring light and life to our hurting world.
"God is glorified in the diversity of gifts and callings expressed in his people.  Just as a garden is more beautiful when it contains a medley of texture and color, so God's Church is more beautiful when we each embrace and nurture our unique gifts and calling.  God's kingdom comes through you, as you are fully you." -Abby Scharbach
Elisabeth Enzler
Intern for The GIVEN Institute
As a math major at Catholic University, Elisabeth daily witnesses the impact of the challenges of the world on women. Seeing these struggles has ignited in Elisabeth a great desire to be a light of Christ and to bring the love of Christ to the women around her. She is grateful to God for this incredible faith journey of service and love of others that He is using to shape her own life as well as her future.
History of The GIVEN Institute
The GIVEN Institute was established in February 2018 and has its origin in the 2016 GIVEN Catholic Young Women's Leadership Forum, organized by the Council of Major Superiors of Women Religious. Sister Mary Gabriel, SV and Sister Bethany Madonna, SV, Co-Chairs of the 2016 GIVEN Forum, conceived of the idea to host a leadership forum for young women throughout the United States with the aim of helping them to "receive the gift they are, realize the gifts they've been given, and respond with the gift that only they can give."
Mother Agnes Mary Donovan, Superior General of the Sisters of Life and an organizer of the event, said "GIVEN was conceived in the hearts of women religious and remains a significant response on the part of the Church to encourage, inspire, and mentor young women at a crucial moment in their lives. We want each of them to know they are loved, noticed, and necessary."
The 2016 GIVEN Forum brought together nearly 300 young adult women from every state in the country, and connected them with some of the leading women in the Church. The attendees were accompanied by over 70 religious sisters from more than 25 different religious communities. Each participant developed a post-forum action plan that they implemented in a community of their choice. The GIVEN Institute was formed to continue the inaugural forum's mission of activating the gifts of young adult women for the Catholic Church and the world. 
During the 2019 GIVEN Forum, attendees came from 30 states, Ireland, and Canada, proudly representing diverse backgrounds. The 120 attendees were paired with lay mentors and religious sisters who met with them in small groups to discuss their proposed Action Plans in the midst of the trainings and workshops. The 25 lay mentors, single and married women, shared their expertise in many sectors of society such as business, publishing, education, law, medicine, and athletics. The 50 religious sisters in attendance hailed from 13 different communities and many included novices still in formation. Attendees were organized by selected track (Entrepreneurial, General Discernment, Catholic Professional, Post-Missionary, Secular Professional) to further identify the gift only they can give.
GIVEN now hosts an annual Catholic Young Women's Leadership Forum, the Art of Accompaniment Mentoring Program, and the wider GIVEN Network to activate the gifts of women from the Church and the world.
Sr. Mary Gabriel, SV
Co-Chair of the inaugural
2016 GIVEN Forum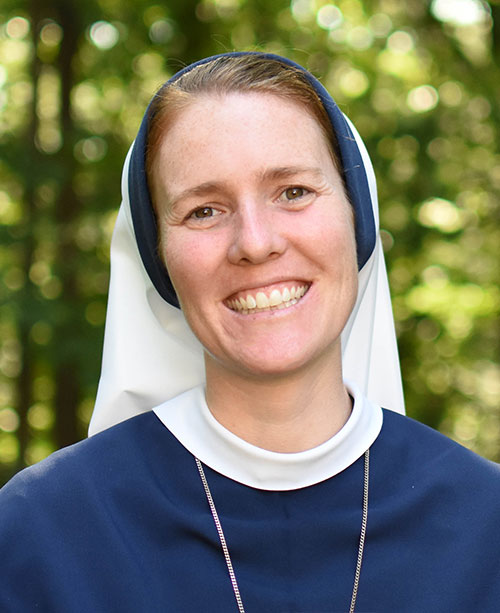 Sr. Bethany Madonna, SV
Co-Chair of the inaugural
2016 GIVEN Forum
Elise Italiano served as GIVEN's Founding Executive Director.
Anne Marie Warner served as GIVEN's Founding Director of Operations.